An Unforgettable Vacation in Umang Island, Banten Province
---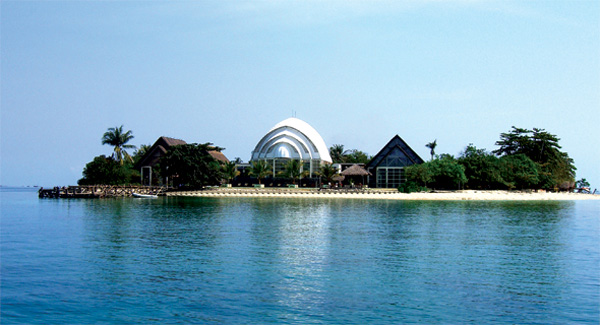 If you are visiting Banten Province, you must not miss a stunning island called Umang. The location is in Sumur District. It belongs to Pandeglang Regency, actually. If you come from Jakarta, it takes about 6 hours to reach the island. The distance is about 180 km. Today, more tourists come to such island for relaxation and sightseeing. No wonder, there are many beautiful attractions in Umang. It is also suitable for a family vacation. Even some couples come to the island for a romantic honeymoon. 
The Nuance
In terms of appearance, the island isn't quite big. It features flawless and white sand. The texture is quite soft, so it won't hurt your feet. The shorelines are shallow, so you can swim in it freely. There is a unique pier, as well. It features 8 different docks for the ships. From here, you can fish or watch sea scenery wholeheartedly. In the back, there are lots of coconut trees. They create a comfortable and refreshing atmosphere. Near to it, many cottages lie neatly. In such location, you can find many types of facilities!
Exploring Umang Island
The most common thing to do is sightseeing. Umang Island offers extraordinary sea scenery, after ll. The blue sea and white sand are a perfect combination. The waves aren't big, so you can play in the water as well. Next, the seawater features beautiful corals. That means you should perform snorkeling. It is a recommended activity in Umang. In the afternoon, you should head to the pier. It is the best location for witnessing the sunset. Not to mention it becomes a good spot for fishing. The types of the fishes are numerous, in fact.
Next thing to do is enjoying a holiday in Umang Resort. It is a featured accommodation in the island. You will be impressed by its amenities. It features many cottages. All of them face the sea, so you can enjoy sea scenery while resting in your room. In terms of entertainment, you get a satellite TV. The other facilities are a spa, a drug store, and a beach club. Here is the best thing. You can find a camping ground. That means you are allowed to go camping there!
For those with kids, there is a playground. Near to it, you can find kids pool. Make sure to give the best time to your kids! Before going home, it is better to buy some souvenirs in Umang Island. No worries, some vendors are available on the island. They sell many types of souvenirs. Mostly, those items are made of clams. There are some shirts, as well! If you want to some, make sure to have prepared lots of money.
Nearby Attractions
Sumur Beach
Ujung Kulon National Park
Tanjung Lesung
How to Get There
From Jakarta, you need to spend about 184 km. Your destination is Summur District. You can simply take a route to Pandeglang Regency. It is going to be a long trip, though. Approximately, you need about 6 hours to reach your destination. Once you reach Sumur, you may continue your trip using a speedboat. It takes a few minutes.
Where to Stay