Sightseeing the Krakatoa Island and Its Majestic Aura
---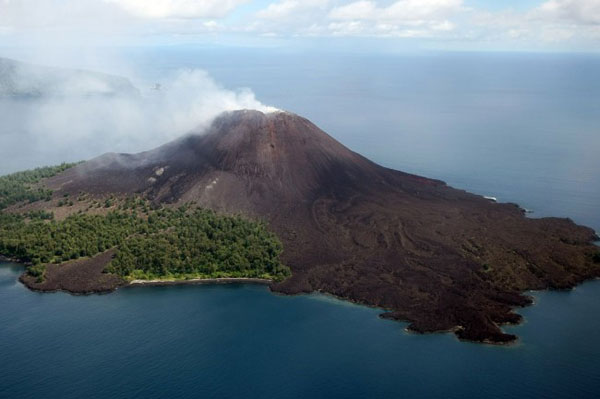 An extreme trip to Krakatoa Island sounds interesting. The location is in the middle of Sunda Strait. As the name implies, it is the home of majestic Krakatoa Mountain. The size of the island is small, actually. Here is the fact. It is the youngest island in Indonesia. The island was formed due to a great explosion in the past. Today, it becomes a good spot for sightseeing and exploring nearby islands. One thing, the island is considered dangerous. That means tourists aren't allowed to get too close to it.
The Nuance
In terms of size, the island is considered small. Most part of the island is covered by sand and ashes. Still, there are some trees on it. The mountain looks like a gigantic pimple. It emits an endless ash and smoke. From afar, you can witness such great sight freely. The thing is you should do this on a boat. Thus, a camera and telescope would be good tools to carry. Don't forget to wear a hat. The weather is quite hot, especially during summer.
Exploring Krakatoa Island
Even though you aren't allowed to get on the island, there are other attractions nearby. For instance, you must try snorkeling. According to some experts, there are 3 great spots for snorkeling near to the island. These include Lagoon, Sebuku Besar, and Sebuku Kecil. For a better navigation, you should take advantage of a tour guide. He may bring you to those locations fast and safely. You must pay him well, though. Also, make sure to visit during good weather. The waves aren't too strong at that time.
For those who love photography, the island offers numerous objects. You can get outstanding results, for sure. Even beginners can capture good pictures there. Here is the thing. You are going to take shots from the boat. A good camera is a must! At least, you must use a camera that comes with a zoom feature. Why is that? It helps you capture objects from afar. An expensive camera gives better results. It is common sense, after all. If you don't like photography, you can simply observe the island from afar. In this case, you need field glasses.
Once you enjoy good times exploring Krakatoa Island, it is time to visit nearby attractions. In fact, there are many small islands scattered in Sunda Strait. These include Sebesi and Lagoon. What you need is a good boat. You may need it to perform an island hopping, later. The rent fee is expensive during holidays. Thus, make sure to prepare much money prior to hiring it. Not to mention you should prepare some snacks and bottled water.
Nearby Attractions

Ujung Kulon National Park
Siger Bakauheni Tower
How to Get There
First, head to Merak Port from Jakarta. The trip usually takes about 3 hours. From there, you can take a ferry to Bakauheni Port. The voyage takes about 2-3 hours. Once you reach the destination, you can rent a small boat in Canti Port. It is the point to reach Krakatoa Island and nearby attractions.
Where to Stay


Latest News
Sawarna Beach Sawarna beach, that located in Lebak, Banten province is now becomes more popular to be visited. In a decade, this beach that located along the forest beach in line with Pelabuhan Ratu, raise as one of most-visited beach and entitled as a new pearl in Southern Banten. To reach Sawarna, the travelers from Jakarta can be start the journey from Tangerang, Tigaraksa and Malimping, Bayah. While, from Bandung, we can start from Pelabuhan Ratu, then down the coast to the west. Unfortunately, we have to ask to the…
---
Serang Serang is the capital of Banten Province and the administrative center of Serang Regency. The administrative center of the regency and the capital of the province is the independent municipality of Serang (Kota Serang). Serang is about 10 km from Old Banten, the province's former capital. Merak, a major port and ferry terminal, is located just west of the regency. Serang is bounded by Java Sea to the north, Tangerang Regency to the east, Lebak Regency and Pandeglang Regency to the south, and Cilegon to the west. Old Banten…
---
Pandeglang Pandeglang is a regency in Banten province with the capital of the same city. This rgency is bordered to the north of Serang, Lebak District in the East, and the Indonesian Ocean in the west and south. Its area also includes the island of Panaitan to the west, separated by the Strait of Panaitan, and number of small islands in the Indian Ocean, including the Deli Island and Tinjil Island. Ujung Kulon Peninsula is the most western tip in Java island, where there are wildlife reserves and there is…
---
Banten Banten is one of Indonesia Provinces that stand on the tip of Java Island. Formerly was a part of West Java Province, but on 2000 was separated and become a single province. The administrative city is located on Serang city. Banten at early begin was a port city with the busiest activity and prosperous people. Also, Banten was the most important port from Sunda Kingdom. When it was become a part of Sultanate of Banten, Banten became the biggest port city on South East Asia as big as Malaka…
---