Getting Closer to Krakatoa Mountain in Sunda Strait, Java Island
---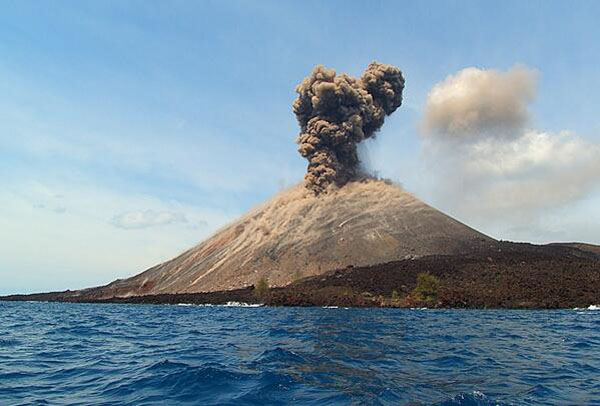 Almost all countries have heard the bad history of Krakatoa Mountain. Due to its volcanic eruption, the mountain caused havocs all around the globe. It was in 1883. Despite this notorious story, it becomes one of the attractions in Indonesia. Many tourists decide to visit the reminiscence of the mountain these days. The location is in the midst of Sunda Strait. It is located between Java and Sumatra Island. The locals call it "Anak Krakatau", or the son of Krakatoa Mountain. In fact, it remains an active volcano. The size is getting bigger as well.
The Nuance
From afar, the mountain looks like a deserted island. It emits thick smoke every day. Tourists aren't allowed to get too near to this mountain. The reason is simple. It is too dangerous! Therefore, visitors are only allowed to witness the mountain from a boat. That mean you are going to sightsee such majestic mountain from a long distance. No worries. The calm and beautiful sea will be your partner. Today, the mountain has become an object for photography and sightseeing. Some researchers also often come to the location. They want to capture the progress of such potential volcano.
Exploring Krakatoa Mountain
A journey to Krakatoa Mountain becomes a unique experience for everyone. The first thing to do is to take a bus and visit Merak Port. From here, you can directly head to the midst of Sunda Strait. Usually, tourists want to learn history regarding the mountain. More than a century ago, it erupted and killed more than 30,000 people. The sound of the blast was heard more than 4,000 km. The rumor has it. There was a mother of such erupted mountain. The name is Batuwara. Due to its eruption, Java and Sumatra Island separated.
A trip to the mountain takes about 2-3 hours. During this journey, you can get along with other passengers in the ship. It helps you spend time efficiently. One thing, you are going to use a small boat later. It helps you get closer to the mountain. Before that, it is better to eat some foods! Make sure to satisfy your hunger before visiting the mountain. Your destination is Canti Port in Lampung. From there, you can take a traditional boat to the mountain.
In holidays, the rent fee can be quite expensive. Thus, you should have prepared the money. Your checkpoint is in Sebesi Island. You can rent a room for resting there. If you look for more entertainment, there is Sebuku Island. It is a perfect location for snorkeling. During your vacation to Krakatoa, make sure to carry a camera. You don't want to miss an opportunity to capture such majestic mountain, do you?
Nearby Attractions

Ujung Kulon National Park
Siger Bakauheni Tower
How to Get There
From Jakarta, you can directly head to Merak Port using a bus. From there, it is time to take a ferry to Lampung. The trip takes 3 hours. Once you reach Canti Port, it is time to rent a local boat to reach your final destination.
Where to Stay