Spending a Night in Green Coral Camping Ground, Tanjung Lesung
---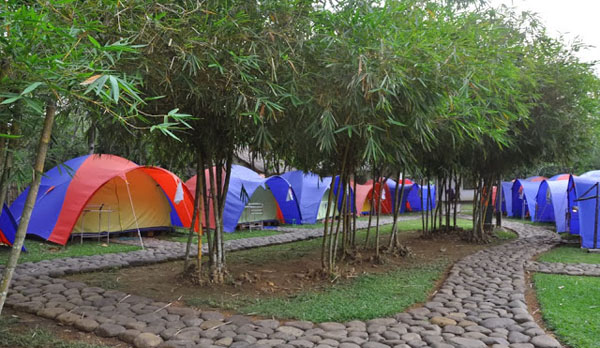 Camping is a refreshing activity. If you want a unique camping experience, there is Green Coral. It is actually a camping ground. The location is near to Tanjung Lesung Beach, Banten. That means campers may enjoy the best nature feature, which is sea scenery. It becomes a favorite destination either for families or teenagers. During holidays, more visitors come to this location. The thing is the number of the tents or domes is limited. Make sure to book a tent beforehand! This way, you can avoid a disappointment due to unavailability of an accommodation.
The Nuance
Once you reach the camping ground, you can see several tents scattered neatly under the trees. Behind them, there is a grassy park. There are stone pavements, as well. The illumination is quite limited. Even though it can be a hassle at night, you don't need much lighting. This camping ground is located near to the parking lot as well. It doesn't feel like camping, right? However, it gives a distinct nuance. On top of that, you can reach Tanjung Lesung Beach easily.
Exploring Green Coral Camping Ground
The first thing to do is to rent the tent. You are going to use a Charlie Dome Tent. It can accommodate about 5 people. However, it is better not to use it more than 3 people. Why is that? It is for the sake of comfort. This location applies an outdoor theme and modern facilities. With a regular quality of illumination and electricity, you can spend a wonderful night inside the tent. In fact, you can even charge your phone there. Not to mention there is a place for your dirty clothes.
Near to the tents, there are numerous facilities. For instance, there is a multifunction room. Visitors can use it as a workshop or gazebo. Usually, the guests gather in the same room and get along well with each other. Next, there is a restroom. It includes a toilet, as well. In some occasions, the guests can join a synergized games program. Thus, you must come with your families! This way, you can enjoy the games in a better manner. It will be merrier, as well.
The guests in Green Coral Camping Ground are allowed to enjoy numerous outbound activities. The best choice is water sport. As mentioned earlier, the camping ground is located near to the beach. That means you can access water sports activities like canoeing, snorkeling, jet skiing, banana boat, and much more. Overall, this is going to be a wonderful experience. As for tips, make sure to carry an extra fan. The camping ground is situated in a coastal area. That means it features hot atmosphere. Due to this reason, a fan is a must.
Nearby Attractions

Tanjung Lesung Beach
Tanjung Lesung Marine Park
Bodur Beach
Kampung Sawah
How to Get There
In order to reach Green Coral Camping Ground, you must head to Tanjung Lesung. The location is near to the beach, after all. That means everyone can easily find it. From Jakarta, you can take a freeway. The route is Jakarta-Merak. The exit point is West Cilegon gate. From there, you should take the route to Anyer. The trip takes about 160 km!
Where to Stay


Latest News
Sawarna Beach Sawarna beach, that located in Lebak, Banten province is now becomes more popular to be visited. In a decade, this beach that located along the forest beach in line with Pelabuhan Ratu, raise as one of most-visited beach and entitled as a new pearl in Southern Banten. To reach Sawarna, the travelers from Jakarta can be start the journey from Tangerang, Tigaraksa and Malimping, Bayah. While, from Bandung, we can start from Pelabuhan Ratu, then down the coast to the west. Unfortunately, we have to ask to the…
---
Serang Serang is the capital of Banten Province and the administrative center of Serang Regency. The administrative center of the regency and the capital of the province is the independent municipality of Serang (Kota Serang). Serang is about 10 km from Old Banten, the province's former capital. Merak, a major port and ferry terminal, is located just west of the regency. Serang is bounded by Java Sea to the north, Tangerang Regency to the east, Lebak Regency and Pandeglang Regency to the south, and Cilegon to the west. Old Banten…
---
Pandeglang Pandeglang is a regency in Banten province with the capital of the same city. This rgency is bordered to the north of Serang, Lebak District in the East, and the Indonesian Ocean in the west and south. Its area also includes the island of Panaitan to the west, separated by the Strait of Panaitan, and number of small islands in the Indian Ocean, including the Deli Island and Tinjil Island. Ujung Kulon Peninsula is the most western tip in Java island, where there are wildlife reserves and there is…
---
Banten Banten is one of Indonesia Provinces that stand on the tip of Java Island. Formerly was a part of West Java Province, but on 2000 was separated and become a single province. The administrative city is located on Serang city. Banten at early begin was a port city with the busiest activity and prosperous people. Also, Banten was the most important port from Sunda Kingdom. When it was become a part of Sultanate of Banten, Banten became the biggest port city on South East Asia as big as Malaka…
---