Bandulu Green Hill in Anyer District, Banten Province
---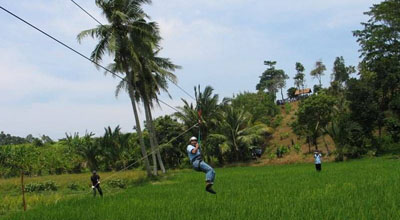 For those who are visiting Serang Regency, there is a popular place called Bandulu Green Hill. It is a natural tourist spot, which is located in Anyer Karang Bolong Street. Most of the visitors come there for a family gathering, outing, and outdoor training. Thus, it is a wonderful place to strengthening your relationship with either families or friends. That area has the size of 5 hectares. It opens for public and it provides numerous types of training and fun facilities. For example, there are flying fox, rope games, paintball, etc. The best thing is you will get a guide to enjoying such activities.
The Nuance
As the name implies, the area is surrounded by green landscapes such as farms, trees, a hill, bushes, etc. These features create a refreshing and comfortable ambiance. From afar, you can see a small hill and it features a flying fox facility. During weekends, many people come to the location to try such fun activity and other choices. The big coconut trees are also interesting. The gusty wind moves the leaves beautifully. Also, there are some local guides nearby. They help tourists to enjoy everything in the location.
Exploring Bandulu Green Hill
Not only it provides fun outdoor facilities, Bandulu Green Hill also becomes a good location for camping. In fact, you can find a camping ground nearby. It features air-conditioned cabins, as well. In a nutshell, it is a place to enjoy the freedom in nature. It is also suitable for those who want to feel a natural adventure. It can even improve physical performance. This location becomes a recommended vacation destination apart from Anyer Beach.
The cabins are available for those who want to rest and spend a night in Bandulu Green Hill. Not to mention there is an assembly hall. Tourists are able to prepare their equipment in such facility. When it comes to the best activities, most tourists would likely to enjoy flying fox and low rope. Some tourists also love the leadership learning program. With this, they are able to improve their personal performance by the help of the guide. Each program includes an accommodation and foods, as well.
Today, Bandulu Green Hill has become a favorite location for a family outing. Tourists come from numerous locations such as West Java, Jakarta Special Region, Sumatera Island, etc. the best time to visit it is on the weekends as you can meet many people there. Near to the location, you can even find a natural fountain. Everything is quite fun and comfortable. You won't regret visiting that location.
Nearby Attractions
Sambolo 2 Beach
Anyer Beach
Curug Betung
How to Get There
The prime destination is Serang Regency. From Jakarta, it takes roughly 3 hours. Without a high traffic, it can be faster for sure. The distance is about 132 km and you should take Pantura Street. Once you reach Serang, you can directly head to Bandulu Village. It is located in Anyer District. Some hotels are available nearby, but you can simply use the cabins in Bandulu.
Where to Stay
Jayakarta Anyer Hotel
Marbella Hotel
Nuansa Bali Hotel

Latest News
Sawarna Beach Sawarna beach, that located in Lebak, Banten province is now becomes more popular to be visited. In a decade, this beach that located along the forest beach in line with Pelabuhan Ratu, raise as one of most-visited beach and entitled as a new pearl in Southern Banten. To reach Sawarna, the travelers from Jakarta can be start the journey from Tangerang, Tigaraksa and Malimping, Bayah. While, from Bandung, we can start from Pelabuhan Ratu, then down the coast to the west. Unfortunately, we have to ask to the…
---
Serang Serang is the capital of Banten Province and the administrative center of Serang Regency. The administrative center of the regency and the capital of the province is the independent municipality of Serang (Kota Serang). Serang is about 10 km from Old Banten, the province's former capital. Merak, a major port and ferry terminal, is located just west of the regency. Serang is bounded by Java Sea to the north, Tangerang Regency to the east, Lebak Regency and Pandeglang Regency to the south, and Cilegon to the west. Old Banten…
---
Pandeglang Pandeglang is a regency in Banten province with the capital of the same city. This rgency is bordered to the north of Serang, Lebak District in the East, and the Indonesian Ocean in the west and south. Its area also includes the island of Panaitan to the west, separated by the Strait of Panaitan, and number of small islands in the Indian Ocean, including the Deli Island and Tinjil Island. Ujung Kulon Peninsula is the most western tip in Java island, where there are wildlife reserves and there is…
---
Banten Banten is one of Indonesia Provinces that stand on the tip of Java Island. Formerly was a part of West Java Province, but on 2000 was separated and become a single province. The administrative city is located on Serang city. Banten at early begin was a port city with the busiest activity and prosperous people. Also, Banten was the most important port from Sunda Kingdom. When it was become a part of Sultanate of Banten, Banten became the biggest port city on South East Asia as big as Malaka…
---