A Vacation in Carita Beach, Banten Province
---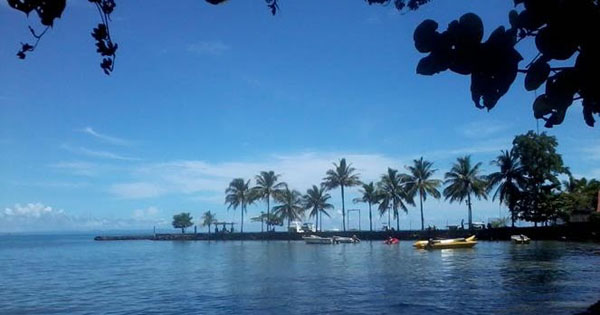 When holidays come, many people are visiting beaches. The problem is there are many options available. In Banten, there is a recommended destination called Carita. Most of the visitors are families. Sometimes, several couples visit it for a romantic date. Regardless of the reason, Carita is suitable for everyone. In terms of popularity, it is the same as Anyer, Tanjung Lesung, and Karang Bolong. That means the beauty isn't bad either. On top of that, the location is near to other beaches. You can visit them one at a time.
The Nuance
In terms of beauty, Carita Beach offers both beauty and serenity. The seashore is sloping and the waves are moderate. The wind is gusty and refreshing. The color of the sand is pastel. These features make a perfect landscape! In some parts of the beach, there are several "saung". It is the local name for cottages. They are situated near to coconut trees and another type of plants. Those cottages are built on a grassy area. What a comfortable location for relaxation!
Exploring Carita Beach
Even the government has made an official statement regarding the status of the beach. It is open for public. One of the best attractions is a nautical beauty. It is rich in resources such as seaweeds, fishes, etc. Sightseeing is a common activity in Carita. You can simply sit in a cottage and witness flawless scenery of the sea. The sound of the waves is calming, as well. In the horizon, you are able to see the shape of a majestic mountain, called Krakatoa.
Apart from sea scenery, Carita Beach is also famous for its fauna. If you come at the right time, you can see several animals like crab-eating macaque, langurs, eagles, snakes, lizards, falcons, and much more. They often come out in summer, actually. When it comes to flora, you can find several species such as teak, mahogany, and crepe myrtle. All of them create a fantastic nuance. No wonder, many nature lovers visit the beach over time.
The most common activity is beach walking. Apart from that, you can try other fun activities as well. These include playing kite, jet skiing, diving, playing banana boat, snorkeling, and others. If you don't like those things, you can simply sit and witness a majestic Krakatoa Mountain. In the end of the day, you can enjoy snacks and foods. Seafood is the best culinary in Carita. Also, make sure to buy a fresh coconut drink! If you need some information regarding such tourist location, there are some officials nearby. They are quite friendly.
Nearby Attractions

Matahari Beach
Citaman Jiput Fountain
Curug Putri
How to Get There
The simplest route to Carita Beach is through Anyer. That means you are going to use West Cilegon freeway. One thing, the traffic is quite high during holidays. As an alternative, you can use another route. It heads to Pandeglang City through West Serang freeway. For a simpler trip, you can take advantage of a driver. That means you will rent a car along with the driver.
Where to Stay

Dessy Cottage
Parahyangan Cottage
Carita Baka-Baka

Latest News
Sawarna Beach Sawarna beach, that located in Lebak, Banten province is now becomes more popular to be visited. In a decade, this beach that located along the forest beach in line with Pelabuhan Ratu, raise as one of most-visited beach and entitled as a new pearl in Southern Banten. To reach Sawarna, the travelers from Jakarta can be start the journey from Tangerang, Tigaraksa and Malimping, Bayah. While, from Bandung, we can start from Pelabuhan Ratu, then down the coast to the west. Unfortunately, we have to ask to the…
---
Serang Serang is the capital of Banten Province and the administrative center of Serang Regency. The administrative center of the regency and the capital of the province is the independent municipality of Serang (Kota Serang). Serang is about 10 km from Old Banten, the province's former capital. Merak, a major port and ferry terminal, is located just west of the regency. Serang is bounded by Java Sea to the north, Tangerang Regency to the east, Lebak Regency and Pandeglang Regency to the south, and Cilegon to the west. Old Banten…
---
Pandeglang Pandeglang is a regency in Banten province with the capital of the same city. This rgency is bordered to the north of Serang, Lebak District in the East, and the Indonesian Ocean in the west and south. Its area also includes the island of Panaitan to the west, separated by the Strait of Panaitan, and number of small islands in the Indian Ocean, including the Deli Island and Tinjil Island. Ujung Kulon Peninsula is the most western tip in Java island, where there are wildlife reserves and there is…
---
Banten Banten is one of Indonesia Provinces that stand on the tip of Java Island. Formerly was a part of West Java Province, but on 2000 was separated and become a single province. The administrative city is located on Serang city. Banten at early begin was a port city with the busiest activity and prosperous people. Also, Banten was the most important port from Sunda Kingdom. When it was become a part of Sultanate of Banten, Banten became the biggest port city on South East Asia as big as Malaka…
---