Enjoying a Unique Tourism in Cipanon Village, Tanjung Lesung
---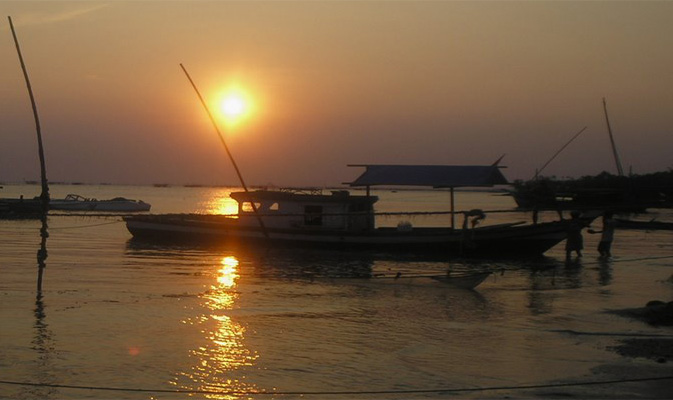 Banten Province holds numerous nature tourist spots. Though, you should also pay attention to a village called Cipanon. It becomes an interesting location for tourism nowadays. The location is near to Tanjung Lesung. The locals recognize it as a place for an outbound and family outing. Not to mention the government is developing Cipanon as a conservation area and tourist spot for everyone. Most of the visitors are those who live near to the beach in Sunda Strait. They come for witnessing fishermen's activity, sightseeing the sunrise, nature tourism, etc.
The Nuance
One you reach the location, you can see a faultless landscape of Cipanon. It features some traditional structures and facilities. In terms of nature, it is surrounded by several types of trees. Since it is located near to the beach, the wind is quite gusty. During summer, the heat of the sun is considered uncomfortable. Make sure to wear proper clothes. If necessary, you should apply some sunscreen. Next, there are some facilities available. This includes a restaurant located near to the coast. Eating good foods and enjoying sea scenery are a good combination! 
Exploring Cipanon Village
The most common activity is to fee the seagulls. These birds often pass by, so you may encounter many of them later. Though, they only come during a migration phase. Make sure to get the right schedule! In the morning, you can witness an activity of local fishermen. They are heading to the sea using their small boat. Somehow, their silhouette looks beautiful from afar. Not to mention you have an opportunity to enjoy the sunrise. Don't forget to carry a camera and capture such beautiful moment.
The locals call this tourist spot "Kampung Cipanon". It is a well-maintained conservation and tourist spot, actually. It is managed by Banten people. Once you enjoy a beautiful morning on the beach, it is time for other attractions. For instance, there is a coral conservation. Tourists will be taught how to plant and take care of corals. The purpose is to increase the number of corals in the sea. This way, fishes and other sea creatures have a better home underwater. Not to mention it helps improve nautical beauty nearby.
There are other attractions nearby. If you love religious tourism, you can visit a good place called Sunda Kelapa Mosque. In some occasions, the locals hold a group prayer. They call it "pengajian". The number of people joining such event is more than 100. Somehow, it becomes an interesting 
Nearby Attractions
Tanjung Lesung Marine Park
Tanjung Lesung Beach
Bodur Beach
How to Get There
Cipanon Village is located near to Tanjung Lesung. Thus, you should head to such location directly. Usually, tourists use a route to Anyer. You can use the same route, as well. Once you reach Anyer-Carita coast, you should head to Labuan. This is your primary way to Tanjung Lesung. If you come from Jakarta, you can use Jakarta-Merak freeway. Your exit point is in West Cilegon gate. From here, you can take a route to Anyer. 
Where to Stay
Tanjung Lesung Resort
Blue Fish Hotel
Kalicaa Villa

Latest News
Sawarna Beach Sawarna beach, that located in Lebak, Banten province is now becomes more popular to be visited. In a decade, this beach that located along the forest beach in line with Pelabuhan Ratu, raise as one of most-visited beach and entitled as a new pearl in Southern Banten. To reach Sawarna, the travelers from Jakarta can be start the journey from Tangerang, Tigaraksa and Malimping, Bayah. While, from Bandung, we can start from Pelabuhan Ratu, then down the coast to the west. Unfortunately, we have to ask to the…
---
Serang Serang is the capital of Banten Province and the administrative center of Serang Regency. The administrative center of the regency and the capital of the province is the independent municipality of Serang (Kota Serang). Serang is about 10 km from Old Banten, the province's former capital. Merak, a major port and ferry terminal, is located just west of the regency. Serang is bounded by Java Sea to the north, Tangerang Regency to the east, Lebak Regency and Pandeglang Regency to the south, and Cilegon to the west. Old Banten…
---
Pandeglang Pandeglang is a regency in Banten province with the capital of the same city. This rgency is bordered to the north of Serang, Lebak District in the East, and the Indonesian Ocean in the west and south. Its area also includes the island of Panaitan to the west, separated by the Strait of Panaitan, and number of small islands in the Indian Ocean, including the Deli Island and Tinjil Island. Ujung Kulon Peninsula is the most western tip in Java island, where there are wildlife reserves and there is…
---
Banten Banten is one of Indonesia Provinces that stand on the tip of Java Island. Formerly was a part of West Java Province, but on 2000 was separated and become a single province. The administrative city is located on Serang city. Banten at early begin was a port city with the busiest activity and prosperous people. Also, Banten was the most important port from Sunda Kingdom. When it was become a part of Sultanate of Banten, Banten became the biggest port city on South East Asia as big as Malaka…
---