Curug Putri in Sanghiangdengdek Village, Banten Province
---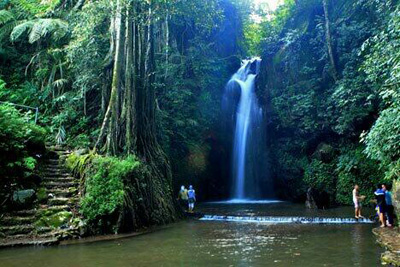 If you love nature tourism, you should visit Banten Province. It is the home of numerous waterfalls. One of them is situated in Pandeglang Regency. The name is Curug Putri. It is actually a secluded fall. That means it takes more efforts to reach the location. However, there are two waterfalls with the same name in Banten. One of them is situated in Pulosari. Another Curug Putri is situated in Carita District. The second one is considered more popular. Thus, it attracts more visitors as the time goes by. 
The Nuance
A refreshing nuance becomes the main feature in Curug Putri. The sound of water brings an inner peace to you. The waterfall is surrounded by wild plants. The green plants create a soothing mood there. There is a shallow pond, as well. You can play in the water without worries. Since it is located in a secluded area, you won't expect many visitors. That location is suitable for both relaxation and self-reflecting. Do you want to eradicate stresses? Thus, you must visit Curug Putri.
Exploring Curug Putri
Even though Curug Putri is considered a waterfall, most visitors come for its river. In terms of appearance, it is similar to Green Canyon Pangandaran. Both of them share similar characteristics, after all. The most common activity is body rafting. This place is suitable for those who love nature tourism! If you like swimming, you should visit it as well. The size of the river isn't quite wide, though. Not to mention the location is a little bit isolated. No worries. You can take advantage of a local guide to reach the fall.
Curug Putri is recognized as a new tourist spot in Carita District. It opens for public since 2013. Apart from water activities, you can explore the landscape freely. Therefore, this gives you an opportunity for trekking. There are other activities to do, though. These include photography, cycling, hiking, and relaxation. All of them give you a memorable experience. Next, you can visit another Curug Putri, which is located in Cilentung Village. In terms of nuance, both of them are also similar. Though, this one features a hot spring!
As for the tips, it is better to go to Curug Putri with a private vehicle. Why is that? It gives you comfort and economic value. Not to mention it is a faster option of a vehicle. Next, you should come in the morning. It gives you a more refreshing mood. Also, you won't encounter many visitors yet. Another tip is related to the clothes. You may get wet there, so you need to carry extra clothes.
Nearby Attractions
Karang Mountain
Citaman Jiput Fountain
How to Get There
Your primary destination is Carita District, Banten. If you come from Jakarta, it takes about 3-4 hours depending on the type of vehicle. The trip has the distance about 127 km. Thus, it is going a long journey. The fastest route is through Pantura Street. Next, you can use Tangerang-Merak Freeway. For a better and faster trip, it is recommended to ride a car. If you don't have a private car, you can rent it. If necessary, you need to hire a driver. 
Where to Stay
Lippo Carita Hotel
Bali de Anyer Hotel
Sunset View Hotel
Riz Hotel

Latest News
Sawarna Beach Sawarna beach, that located in Lebak, Banten province is now becomes more popular to be visited. In a decade, this beach that located along the forest beach in line with Pelabuhan Ratu, raise as one of most-visited beach and entitled as a new pearl in Southern Banten. To reach Sawarna, the travelers from Jakarta can be start the journey from Tangerang, Tigaraksa and Malimping, Bayah. While, from Bandung, we can start from Pelabuhan Ratu, then down the coast to the west. Unfortunately, we have to ask to the…
---
Serang Serang is the capital of Banten Province and the administrative center of Serang Regency. The administrative center of the regency and the capital of the province is the independent municipality of Serang (Kota Serang). Serang is about 10 km from Old Banten, the province's former capital. Merak, a major port and ferry terminal, is located just west of the regency. Serang is bounded by Java Sea to the north, Tangerang Regency to the east, Lebak Regency and Pandeglang Regency to the south, and Cilegon to the west. Old Banten…
---
Pandeglang Pandeglang is a regency in Banten province with the capital of the same city. This rgency is bordered to the north of Serang, Lebak District in the East, and the Indonesian Ocean in the west and south. Its area also includes the island of Panaitan to the west, separated by the Strait of Panaitan, and number of small islands in the Indian Ocean, including the Deli Island and Tinjil Island. Ujung Kulon Peninsula is the most western tip in Java island, where there are wildlife reserves and there is…
---
Banten Banten is one of Indonesia Provinces that stand on the tip of Java Island. Formerly was a part of West Java Province, but on 2000 was separated and become a single province. The administrative city is located on Serang city. Banten at early begin was a port city with the busiest activity and prosperous people. Also, Banten was the most important port from Sunda Kingdom. When it was become a part of Sultanate of Banten, Banten became the biggest port city on South East Asia as big as Malaka…
---