Exploring Pandeglang Forest Park in Banten Province
---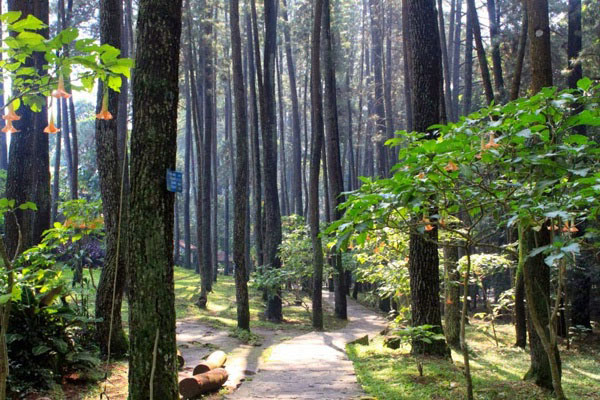 In Carita District, you can find a place called Pandeglang Forest Park. The locals call it Tahura (Taman Hutan Raya). As the name suggests, it is natural conservation. It is an ideal place for learning and researching. Today, it also becomes a vacation spot in Banten. However, the government has created a strict rule for tourists. Any visitors should take care of the environment. That means you aren't allowed to litter there. This way, you can help retain the serenity and beauty of the park.
The Nuance
The first impression is the clarity of the park. You won't find any trash. The park features a path, so you can walk and explore it easily. The most significant features are the trees and plants. They are quite tall, but slimy. Those trees are standing on a grassy land. All of these features create a perfect combination. In the morning, the atmosphere is quite chilling. A fog also becomes a feature at that time. Due to this reason, make sure to wear proper and comfortable clothes!
Exploring Pandeglang Forest Park
One of the icons in Banten Province is Pandenglang Forest Park. This natural conservation attracts more tourists as the time goes by. Once you enter the park, you can find hundreds of tree species. There are beautiful plants as well. With all these attractions, such location becomes an ideal place for those who love nature. You can learn different types of flora and trees. In fact, you can get closer to them. It is a paradise! You won't get disappointed visiting such forest park.
Next thing to do is forest walking. Make sure to prepare good stamina, though. It doesn't have to be a long. You can get around the forest for tens of minutes. Even though it is rare, cycling is also allowed. In this case, you need to get permission from the keeper. This adventure gives a distinct experience for visitors. For those who come with families, it becomes an opportunity for bonding. In fact, it is also suitable for couples. The serenity of the forest creates a romantic nuance, for sure.
As for precautions, you should never litter. Bringing snacks and bottled water are allowed but you should take care of the nearby environment. Next, you should wear comfortable clothes and footwear. The thing is you are likely to walk much time. Thus, make sure your shoes or sandals are comfortable. As additional equipment, a camera is a good idea. Many interesting objects are available there. Your inner photography passion may kick in immediately.
Nearby Attractions

Carita Beach
Matahari Beach
Jambu Beach
Curug Cikotak
How to Get There
Tahura is located in Carita District. That means it becomes your main objective. For those who come from Jakarta, the trip takes about 3 ½ hours. It can be either faster or longer. The distance is 153 km. Travelers should take Pantura Street and Nasional III Street to reach the location. These are the fastest routes, after all. Once you reach Carita, you can directly head to the forest park.
Where to Stay

Sunset View Hotel
Bali de Anyer Hotel
Hawaii Resort