Exploring Karang Gundul Coral Conservation in Tanjung Lesung, Banten
---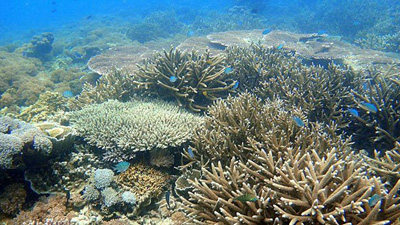 In Banten Province, Tanjung Lesung is famous for its beaches. That doesn't mean your option is limited. For example, there is a natural coral conservation. It is called Karang Gundul As the name suggests, it is a location to retain and develop corals. The best thing is tourists are allowed to learn and join the activity. It becomes your chance to learn the importance of corals and how to preserve them! In fact, JICA has chosen Tanjung Lesung as a crucial location to maintain corals. For those who want to explore a nautical beauty, you must visit that tourist spot. 
The Nuance
It is going to be an underwater adventure. There is a guide, so you can rely on him. The thing is you should follow his instructions carefully. The water has a good visibility. That means you can explore and get around in the water without hassles. In the sea surface, there are some artificial fields. These are used to plant and retain corals. All visitors are allowed to involve, in fact. Moreover, you don't have to bring diving gears. It is because the management provides them for you.
Exploring Tanjung Lesung Coral Conservation
Diving is a primary activity in such coral conservation. This way, you can witness numerous nautical attractions like corals, jellyfishes, clams, fishes, snails, etc. Apart from enjoying sea scenery, you can learn how to transplant corals. In the past, the government used the location to teach nearby people regarding the importance of corals. Today, it becomes one of the best attractions in Tanjung Lesung. Even tourists can learn how to transplant and retain sea corals. It can be a worthy experience and knowledge, for sure.
Next, you are able to learn the causes of coral destruction. The guide may tell you about it. The most common cause is the land erosion. It comes to the sea and prohibits corals from growing. Why is that? Such erosion causes sediment can block the sunray from feeding the corals. Human also becomes a major cause of coral's death. Many people often litter in the sea. Any types of trash cause damages to corals. It is a no brainer!
In the end of your exploration, you will get some information regarding how important corals are. The keeper may tell you about it. Corals are the home of fishes and other sea creatures. Not to mention they beautify the underwater environment. The only human can protect them from numerous threats. Apart from being a tourist spot, Tanjung Lesung coral conservation becomes the place to learn more about nature. It helps visitors to be more aware of the coral condition in Indonesia's water. 
Nearby Attractions
Tanjung Lesung Beach
Tanjung Lesung Marine Park
Bodur Beach
Kampung Sawah
How to Get There
From Jakarta, you should head to Banten Province. The trip takes about 160 km to Tanjung Lesung. Even though it is a long trip, you won't regret it later. For the best experience, you should ride a car and take a freeway route. Once you reach Tanjung Lesung, you can directly visit the coral conservation nearby. Just ask some locals about the location. They will give you direction right away.
Where to Stay
Tanjung Lesung Resort
Blue Fish Hotel
Kalicaa Villa