Playing Water in Citaman Jiput Fountain, Pandeglang Regency
---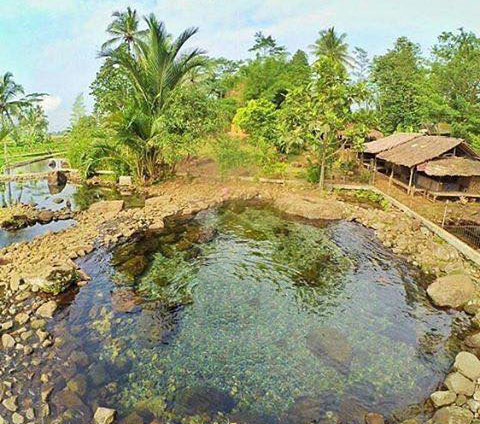 For the next family vacation, you should consider Citaman Jiput Fountain. This nature tourism spot is located in Jiput Raya Street, Sukosari Village. Actually, it belongs to Pulosari District and Pandeglang Regency. What you need to do is to visit Banten Province from your location. Such tourist spot is quite similar to Umbul Ponggok in Klaten, Central Java. This fountain becomes a great location to play water and enjoy fresh natural atmosphere. It also becomes a perfect vacation destination for a family bonding. 
The Nuance
When it comes to nuance, the fountain features lots of stunning objects. Apart from fresh and clear water, it is surrounded by rocks. In the middle of the pond, there is an island-like rock formation. Also, you can see several plants and trees nearby. That means the fountain is surrounded by nature! It gives refreshing mood for visitors. During holidays, you may expect lots of tourists there. Here is the thing. Since you are getting wet, you must carry extra clothes.
Exploring Citaman Jiput Fountain
Most of the visitors come to the fountain for playing water. Though, some of them also want to learn the history. According to the locals, Citaman Fountain has been there for more than 2,000 years. Due to its age, some people considered it a sacred spring. Here is the unique thing about it. The fountain remains clear and clean, regardless of age and condition. In terms of temperature, it is cold as ice. Thus, it becomes a good location for relaxation and enjoying fresh water!
Once you reach the location, you may see the source of water. It is surrounded by stones and located in the midst of the pond. It is the main attraction in Citaman Fountain, after all. Swimming and playing in the water are common activities to do. Getting in the water in the middle of natural environment will be a wonderful activity. It is even possible to take selfies in such location. Make sure not to use a water resistant camera, though.
In order to retain its purity and beauty, you must never litter in the water. That means you should not eat snacks near to Citaman Fountain. Once you enjoy playing water, you can visit nearby attractions. For instance, there is Batu Goong. It is actually terraced stones and it is an inheritance of Buddhist's culture. In the past, many monks use it for meditating. It can be a perfect spot for taking pictures, actually. Therefore, don't forget to bring your camera! At least, you should carry a mobile phone.
Nearby Attractions
Curug Putri
Laguna Beach
Karang Mountain
Batu Goong
How to Get There
So, are you visiting the fountain? In this case, you should head to Jiput District. It is located in Pandeglang Regency. From Jakarta, you can directly reach the location by car. To be exact, your destination is Sukasari Village. The fountain is easy to find as it is near to Pulosari Mountain. You only need to follow Pandeglang-Labuan Street. If you come from Pandeglang, use Mandalawangi Street to Jiput District. From there, villagers may show you the location of Citaman Jiput.
Where to Stay
Lippo Carita
Bali de Anyer
Sofyan Inn
Sunset View Hotel

Latest News
Sawarna Beach Sawarna beach, that located in Lebak, Banten province is now becomes more popular to be visited. In a decade, this beach that located along the forest beach in line with Pelabuhan Ratu, raise as one of most-visited beach and entitled as a new pearl in Southern Banten. To reach Sawarna, the travelers from Jakarta can be start the journey from Tangerang, Tigaraksa and Malimping, Bayah. While, from Bandung, we can start from Pelabuhan Ratu, then down the coast to the west. Unfortunately, we have to ask to the…
---
Serang Serang is the capital of Banten Province and the administrative center of Serang Regency. The administrative center of the regency and the capital of the province is the independent municipality of Serang (Kota Serang). Serang is about 10 km from Old Banten, the province's former capital. Merak, a major port and ferry terminal, is located just west of the regency. Serang is bounded by Java Sea to the north, Tangerang Regency to the east, Lebak Regency and Pandeglang Regency to the south, and Cilegon to the west. Old Banten…
---
Pandeglang Pandeglang is a regency in Banten province with the capital of the same city. This rgency is bordered to the north of Serang, Lebak District in the East, and the Indonesian Ocean in the west and south. Its area also includes the island of Panaitan to the west, separated by the Strait of Panaitan, and number of small islands in the Indian Ocean, including the Deli Island and Tinjil Island. Ujung Kulon Peninsula is the most western tip in Java island, where there are wildlife reserves and there is…
---
Banten Banten is one of Indonesia Provinces that stand on the tip of Java Island. Formerly was a part of West Java Province, but on 2000 was separated and become a single province. The administrative city is located on Serang city. Banten at early begin was a port city with the busiest activity and prosperous people. Also, Banten was the most important port from Sunda Kingdom. When it was become a part of Sultanate of Banten, Banten became the biggest port city on South East Asia as big as Malaka…
---