Tanjung Lesung Sea Garden in Pandeglang, Banten Province
---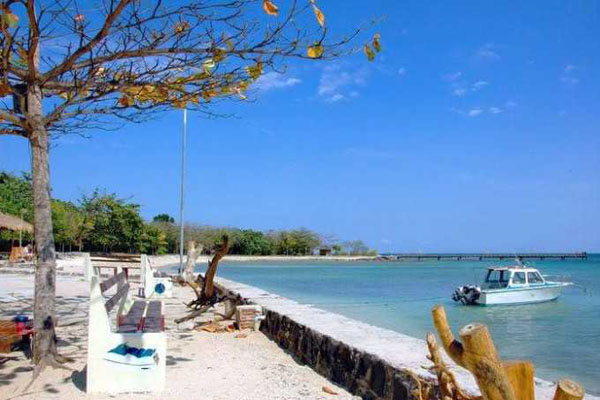 Most people who live in Banten have heard about Tanjung Lesung Beach. Though, it is not only about the coast. It is because there are other lures to enjoy. For instance, there is a sea garden. This beautiful underwater landscape becomes an ideal area for snorkeling and nautical exploration. The location is near to Tanjung Jaya Village. In the water, you can see numerous corals and sea habitats. It is a popular spot for diving and snorkeling, too. Even foreigners acknowledged it.
The Nuance
Once you get into the water, you can see numerous beautiful corals clearly. Thanks to a flawless visibility of the seawater. During weekends, you may encounter several divers and they become your companion during an underwater adventure. For the best experience, it is better to dive at noon. The water is clearer at that time! In the surface of the sea, many types of corals are scattered. They come in different color and size. Also, they form a beautiful subaquatic landscape. What a stunning sight!
Exploring Tanjung Lesung Sea Garden
The best thing to do in such sea garden is snorkeling. You can either bring your own snorkeling gear or rent it. The seawater is warm at noon. Once you are in, some fishes pass by and swim around you. It is fun! The most famous species is the clown fish. It reminds you of an animation character called Nemo. These clown fishes are seen near to anemones. Don't touch those things, though. Anemones can hurt you. Only Nemos are immune to such sea flora.
Apart from clown fishes, you can find other species. Those creatures live inside the corals. If you want to witness various types of sea creatures, make sure to choose the right spot. An instructor can be a great help. He will be your guide during an underwater exploration. That means you can reach the best spots for either snorkeling or diving. In many cases, you should give him a good tip. Thus, make sure to prepare the money before visiting Tanjung Lesung.
These are some precautions. You should not come to Tanjung Lesung Sea Garden in January-February. Why is that? The seawater isn't quite clear at that time. If you want tranquil and clear seawater, it is better to come between April-October. The weather is nice and the waves are calm. Thus, tourists can enjoy snorkeling and diving safely. As for the best location for corals sightseeing, it is near to Beach Club. The spot is about 650 meters from such area. Overall, you should talk to an instructor first prior to getting in the water.
Nearby Attractions

Kampung Sawah
Tanjung Lesung Beach
Bodur Beach
How to Get There
If you come from Jakarta, you are going to do a long trip. The distance is about 165 km. Your main destination is Tanjung Lesung. What about the route? You can use the same route to Anyer Beach. Next, you should head to Labuan. From here, you are on the right track to your final goal.
Where to Stay

Tanjung Lesung Resort
Blue Fish Hotel
Kalicaa Villa

Latest News
Sawarna Beach Sawarna beach, that located in Lebak, Banten province is now becomes more popular to be visited. In a decade, this beach that located along the forest beach in line with Pelabuhan Ratu, raise as one of most-visited beach and entitled as a new pearl in Southern Banten. To reach Sawarna, the travelers from Jakarta can be start the journey from Tangerang, Tigaraksa and Malimping, Bayah. While, from Bandung, we can start from Pelabuhan Ratu, then down the coast to the west. Unfortunately, we have to ask to the…
---
Serang Serang is the capital of Banten Province and the administrative center of Serang Regency. The administrative center of the regency and the capital of the province is the independent municipality of Serang (Kota Serang). Serang is about 10 km from Old Banten, the province's former capital. Merak, a major port and ferry terminal, is located just west of the regency. Serang is bounded by Java Sea to the north, Tangerang Regency to the east, Lebak Regency and Pandeglang Regency to the south, and Cilegon to the west. Old Banten…
---
Pandeglang Pandeglang is a regency in Banten province with the capital of the same city. This rgency is bordered to the north of Serang, Lebak District in the East, and the Indonesian Ocean in the west and south. Its area also includes the island of Panaitan to the west, separated by the Strait of Panaitan, and number of small islands in the Indian Ocean, including the Deli Island and Tinjil Island. Ujung Kulon Peninsula is the most western tip in Java island, where there are wildlife reserves and there is…
---
Banten Banten is one of Indonesia Provinces that stand on the tip of Java Island. Formerly was a part of West Java Province, but on 2000 was separated and become a single province. The administrative city is located on Serang city. Banten at early begin was a port city with the busiest activity and prosperous people. Also, Banten was the most important port from Sunda Kingdom. When it was become a part of Sultanate of Banten, Banten became the biggest port city on South East Asia as big as Malaka…
---