A Religious Tourism in Pandeglang Regency – Batu Quran
---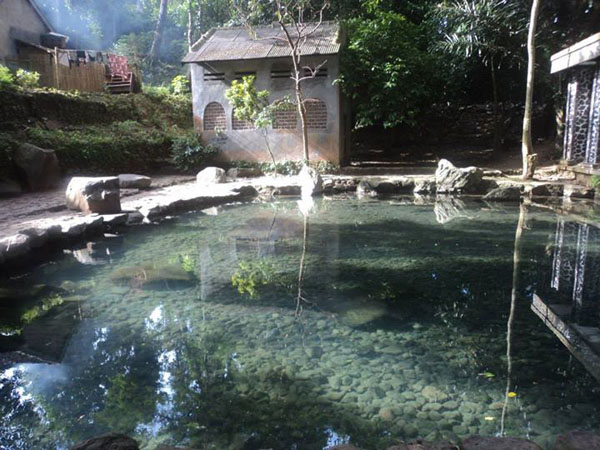 Pandeglang Regency is part of Banten. Today, it attracts many tourists from other cities. The prime reason is the lure of tourism. If you visit Karang Mountain in Kadu Bumbang Village, you may find a recommended tourist spot called Batu Quran. What you need to do is to head to Cimanuk District. So, what is it about? It is actually a pond featuring a big stone. Tourists come to this site to learn the history of Syekh Mansyur. He was a famous Islamic Figure back then.
The Nuance
The water is clear, so you can see several stones in it. In terms of nuance, it is quite natural. It is because the location is near to Karang Mountain. What about the size? It is moderate. In some occasions, tourists are allowed to get in the water. The locals believe it gives blessings and good luck. Still, it requires permission from the keeper before getting in the water. Also, make sure the water is clean and clear. It is because some leaves often fall in the water.
Exploring Batu Quran
As mentioned before, most of the tourists visit Batu Quran to learn the history of this site. The rumor has it. The stone located in the midst of the pond is considered sacred. According to the locals, Maulana Mansyur once stepped on the stone before visiting Mecca. Later, the water came out abundantly from the stone. People believe it as the water from Mecca (Zam-Zam). Maulana decided to close the source of the water using Holy Quran. He got this message from Allah after performing a prayer, actually.
Magically, the water stopped and the Holy Koran turned into a stone. Thus, this site is named after it (Batu Quran). People in Banten have considered Maulana Mansyur as an important person. He had a significant role in spreading Islam in Banten Province, as well. Not to mention he was a smart and brave person. He could also play several musical instruments. No wonder, Moslems come to the Batu Quran in order to give a prayer and learn a little bit more about him. 
Batu Quran features a big stone. The size is roughly 2 meters. In terms of appearance, it is similar to regular stones. The legend has it. The stone was a Holy Quran back then. However, you cannot find any verses of Koran at all. However, there is a belief among the locals. They say only high-spirited people are able to read the verses. With this belief, people start to look for blessings when visiting Batu Quran. They are likely to try whether they can read those verses or not.
Nearby Attractions
Curug Putri
Karang Mountain
Cikoromoy Public Bath
How to Get There
Batu Quran is situated near to Karang Mountain. It is in Cimanuk District. From Jakarta, you need to head to Pandeglang Regency first. The trip takes about 3 hours and the distance is 118 km. It can be a faster trip, actually. What you need are a good vehicle and a low traffic.
Where to Stay
Riz Hotel
Sofyan Inn
Sejahtera Hotel

Latest News
Sawarna Beach Sawarna beach, that located in Lebak, Banten province is now becomes more popular to be visited. In a decade, this beach that located along the forest beach in line with Pelabuhan Ratu, raise as one of most-visited beach and entitled as a new pearl in Southern Banten. To reach Sawarna, the travelers from Jakarta can be start the journey from Tangerang, Tigaraksa and Malimping, Bayah. While, from Bandung, we can start from Pelabuhan Ratu, then down the coast to the west. Unfortunately, we have to ask to the…
---
Serang Serang is the capital of Banten Province and the administrative center of Serang Regency. The administrative center of the regency and the capital of the province is the independent municipality of Serang (Kota Serang). Serang is about 10 km from Old Banten, the province's former capital. Merak, a major port and ferry terminal, is located just west of the regency. Serang is bounded by Java Sea to the north, Tangerang Regency to the east, Lebak Regency and Pandeglang Regency to the south, and Cilegon to the west. Old Banten…
---
Pandeglang Pandeglang is a regency in Banten province with the capital of the same city. This rgency is bordered to the north of Serang, Lebak District in the East, and the Indonesian Ocean in the west and south. Its area also includes the island of Panaitan to the west, separated by the Strait of Panaitan, and number of small islands in the Indian Ocean, including the Deli Island and Tinjil Island. Ujung Kulon Peninsula is the most western tip in Java island, where there are wildlife reserves and there is…
---
Banten Banten is one of Indonesia Provinces that stand on the tip of Java Island. Formerly was a part of West Java Province, but on 2000 was separated and become a single province. The administrative city is located on Serang city. Banten at early begin was a port city with the busiest activity and prosperous people. Also, Banten was the most important port from Sunda Kingdom. When it was become a part of Sultanate of Banten, Banten became the biggest port city on South East Asia as big as Malaka…
---