Florida Anyer Beach in Ciparay Village, Banten
---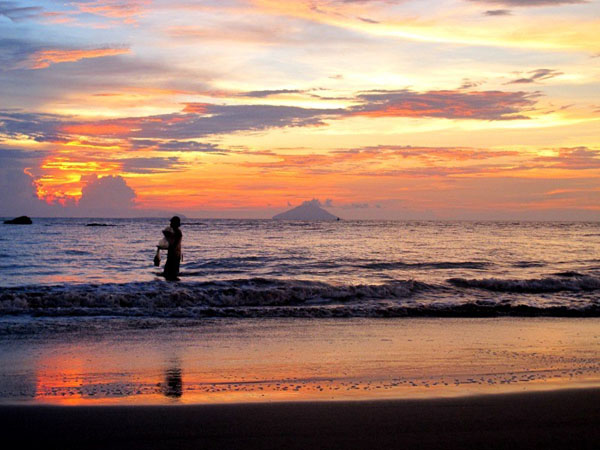 Those who have been in Banten are aware of Anyer Beach. However, there are many options of beaches to visit. For example, there is Florida Beach. One thing, it is not related to that of the United States' Florida State. The location is in Ciparay Village. Most of the visitors come to this beach for either relaxing or witnessing the sunset. The entry fee is cheap, so it won't be a burden at all. Some people from Jakarta also choose that beach as their place for recreation. What about you?
The Nuance
In terms of appearance, it emits a merrier nuance than nearby beaches. There is a sloping coconut tree in the shoreline. It is considered an icon of that tourist spot. In fact, you can climb on it without hassles. Some people sit under such tree for relaxing. It gives them a shady spot to relax, after all. The others choose to play in the seashore. Even though the waves aren't big, swimming is not recommended. Fortunately, the locals provide life tires for tourists. You need to rent it, though. With this, you can swim in the water safely.
Exploring Florida Anyer Beach
The breezy wind hits you once you reach Florida Anyer Beach. In terms of beauty, it is definitely astonishing. You won't get disappointed at all. In front of the coast, you can find a small isle. It becomes a unique sight nearby. Next, the beach is quite sloping and the waves are moderate. There was a bridge nearby. For some reason, it collapsed. The remains of the bridge become good spots for photography. Thus, you should carry your camera when visiting the beach.
The location is suitable for either sightseeing or a family vacation. It is because you can find several outstanding facilities nearby. If you don't like swimming, you only need to sit on a mat and enjoy the sea scenery with your families. Usually, the kids would love to enjoy water sports. In this case, you should watch them carefully. Make sure they don't swim sloppily. As an alternative, you can rent a life vest or similar items. It helps them play in the water safely.
In the afternoon, it is time to enjoy the sunset. The sky becomes red and you can see several boats on the horizon. If you bring a camera, you can capture beautiful moments there. Also, make sure to bring snacks and drinks. It is likely you won't spend money on nearby food stands. The sellers often take advantage of innocent tourists. They put unreasonable prices to their items!
Nearby Attractions

Anyer Beach
Lembah Hijau Bandulu
How to Get There
In order to reach Florida Baech, you should head to Anyer. It will be a short trip for those who live in Banten. On the other hand, it takes up to 3 hours if you come from Jakarta. The simplest route is Pantura Street. It becomes more comfortable without high traffic, as well. The distance is approximately 130 km. If you use a good vehicle, it can be faster. Thus, it is recommended to ride a private or rented car.
Where to Stay

Banten Beach Resort
Jayakarta Hotel
Sanhyang Resort

Latest News
Sawarna Beach Sawarna beach, that located in Lebak, Banten province is now becomes more popular to be visited. In a decade, this beach that located along the forest beach in line with Pelabuhan Ratu, raise as one of most-visited beach and entitled as a new pearl in Southern Banten. To reach Sawarna, the travelers from Jakarta can be start the journey from Tangerang, Tigaraksa and Malimping, Bayah. While, from Bandung, we can start from Pelabuhan Ratu, then down the coast to the west. Unfortunately, we have to ask to the…
---
Serang Serang is the capital of Banten Province and the administrative center of Serang Regency. The administrative center of the regency and the capital of the province is the independent municipality of Serang (Kota Serang). Serang is about 10 km from Old Banten, the province's former capital. Merak, a major port and ferry terminal, is located just west of the regency. Serang is bounded by Java Sea to the north, Tangerang Regency to the east, Lebak Regency and Pandeglang Regency to the south, and Cilegon to the west. Old Banten…
---
Pandeglang Pandeglang is a regency in Banten province with the capital of the same city. This rgency is bordered to the north of Serang, Lebak District in the East, and the Indonesian Ocean in the west and south. Its area also includes the island of Panaitan to the west, separated by the Strait of Panaitan, and number of small islands in the Indian Ocean, including the Deli Island and Tinjil Island. Ujung Kulon Peninsula is the most western tip in Java island, where there are wildlife reserves and there is…
---
Banten Banten is one of Indonesia Provinces that stand on the tip of Java Island. Formerly was a part of West Java Province, but on 2000 was separated and become a single province. The administrative city is located on Serang city. Banten at early begin was a port city with the busiest activity and prosperous people. Also, Banten was the most important port from Sunda Kingdom. When it was become a part of Sultanate of Banten, Banten became the biggest port city on South East Asia as big as Malaka…
---