Approaching Baduy Rural Community in Lebak Regency, Banten
---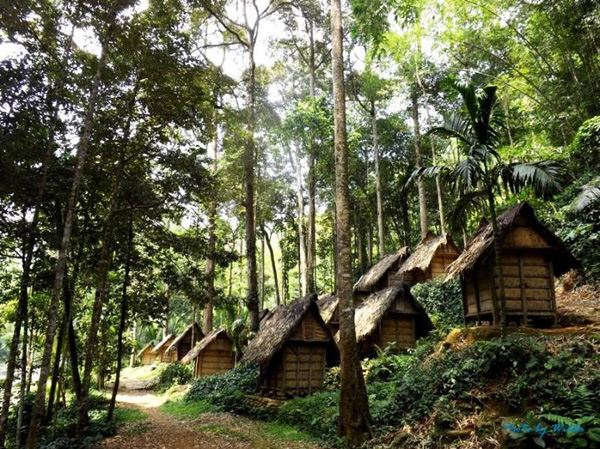 Banten Province is an interesting vacation destination. It is located in the westernmost of Java Island. What makes it so special? Many types of tourism are available there. This includes Baduy Village. This traditional settlement belongs to Lebak Regency and the location is about 40 km from Rangkasbitung. To be exact, it is situated in Cibeo rural community. People who live in Baduy are considered isolated from the outer world. That means they retain their local culture well. Due to this reason, tourists are interested in visiting such secluded settlement. 
The Nuance
The village situated in the midst of a forest. Once you have arrived at Baduy Village, you can see several traditional houses. They are made of woods and bamboos. These houses are surrounded by tall trees. It seems those people are living well in nature. There is a dirt road in front of such settlement. Some bushes become the main feature near to it. When it comes to an atmosphere, it is solemn as if there are no people living in the village. Also, the big trees create a peaceful nuance there.
Exploring Baduy Village
The main attraction in Baduy Village is definitely the local people. They are called Baduy Tribe. Another name is Kenekes. As a tourist, you can learn several unique cultures of those people. For example, they don't have any vehicles. In fact, they prohibit the use of any types of vehicles in the village. Also, they avoid using any footwear! No wonder, you may see them go barefoot all the time. Not to mention they refuse wearing modern clothes. Here is the thing. They don't use any type of technology. 
The next unique thing about Baduy Village is the houses. There is a rule regarding how to build a house in the village. For instance, the door should face either north or south. There is an exception for the leader of the tribe. He is called Pu'un, for your information. All of these things are quite interesting. Apart from tourists, some historians and culture lovers would like to visit the village. No worries. Even though Baduy people are strict with their culture, they are friendly to visitors. 
If you can speak local, you can get along well with those people. If not, you should hire a local guide. He acts as your interpreter. There is a chance to enjoy local specialties, as well. For example, there are Balok Cake, White Apem, Labuan's Otak-Otak, and Emping! These are indeed delicious and unique. You can't find them in your town. That's for sure. So, what's next? At the end of your trip, you can either go back to your hotel room or stay overnight in a villager's house. The second option is more recommended, though.
Nearby Attractions
Baros indah Permai
Gudawang Cave
Halimun Salak National Park
Bagedur Beach
How to Get There
In order to reach Baduy Rural Community, you should head to Lebak Regency first. Next, you can directly visit Cibeo Village. You can use different types of vehicles. A private car is recommended. During the trip, you may reach a checkpoint called Rangkasbitung. From there, you can head to Cibeo. The last trip features walking, though. As mentioned before, Baduy people don't allow any vehicles in their area.
Where to Stay
Rahayu Hotel
Bangkit Hotel
Pesona Ayu Hotel
Stay overnight in a Baduy's house

Latest News
Sawarna Beach Sawarna beach, that located in Lebak, Banten province is now becomes more popular to be visited. In a decade, this beach that located along the forest beach in line with Pelabuhan Ratu, raise as one of most-visited beach and entitled as a new pearl in Southern Banten. To reach Sawarna, the travelers from Jakarta can be start the journey from Tangerang, Tigaraksa and Malimping, Bayah. While, from Bandung, we can start from Pelabuhan Ratu, then down the coast to the west. Unfortunately, we have to ask to the…
---
Serang Serang is the capital of Banten Province and the administrative center of Serang Regency. The administrative center of the regency and the capital of the province is the independent municipality of Serang (Kota Serang). Serang is about 10 km from Old Banten, the province's former capital. Merak, a major port and ferry terminal, is located just west of the regency. Serang is bounded by Java Sea to the north, Tangerang Regency to the east, Lebak Regency and Pandeglang Regency to the south, and Cilegon to the west. Old Banten…
---
Pandeglang Pandeglang is a regency in Banten province with the capital of the same city. This rgency is bordered to the north of Serang, Lebak District in the East, and the Indonesian Ocean in the west and south. Its area also includes the island of Panaitan to the west, separated by the Strait of Panaitan, and number of small islands in the Indian Ocean, including the Deli Island and Tinjil Island. Ujung Kulon Peninsula is the most western tip in Java island, where there are wildlife reserves and there is…
---
Banten Banten is one of Indonesia Provinces that stand on the tip of Java Island. Formerly was a part of West Java Province, but on 2000 was separated and become a single province. The administrative city is located on Serang city. Banten at early begin was a port city with the busiest activity and prosperous people. Also, Banten was the most important port from Sunda Kingdom. When it was become a part of Sultanate of Banten, Banten became the biggest port city on South East Asia as big as Malaka…
---