A Vacation in Liwungan Island, Pandeglang Banten
---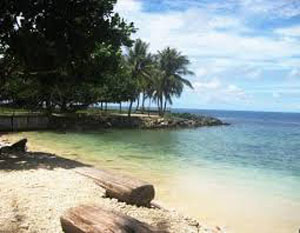 If you are visiting Banten Province in the near future, you should never miss Liwungan Island. It is a recommended vacation spot for everyone. The location is in Panimbang District. Actually, it belongs to Pandeglang Regency. The size of Liwungan is about 50 hectares. It is situated near to Tanjung Lesung, as well. Most tourists love an unspoiled nature of the island. Why do people call it Liwungan? It is named after its location. Kaliwungan means "surrounded by mountains". Today, it attracts visitors who want to perform nature adventure and trekking.
The Nuance
In terms of appearance, the island features mountains and a tranquil sea. There is a traditional dock, as well. It is the place for boat parking. No wonder, you may find several boats in such location. Tourists come to the island mostly during weekends. They come with friends or colleagues. That means you should not expect many kids and families there. The other features of the island are trees and soft sand. Not to mention there are mangroves! You can explore them thoroughly.
Exploring Liwungan Island
The first adventure is to visit a famous filming location. It is true the island was used as a filming location for "Pulau Hantu". Only Indonesian is aware of such movie, though. Once you explore the location, you can feel the breezy and soft wind in the shorelines. The soft sand may never hurt your feet. Due to this reason, beach walking becomes a popular activity in Liwungan. In the seashore, you won't find many people. The beach offers a serene nuance to visitors. Thus, you can eradicate your stresses and enjoy the soothing scenery there.
Water sports are your next option. The calm seawater becomes a perfect lure in Liwungan. There are many things to do such as swimming, snorkeling, and diving. You can even find several transplanted corals underwater. If you don't want to get into the water, you can simply fish in the pier. True that you can't find many types of fishes there. However, it doesn't become a hassle for true fishers! If you come for fishing, make sure to prepare the equipment beforehand.
In terms of accommodations, you can find several homestays. The best location to find one is in Panimbang District. They come at affordable prices, as well. At night, you can simply relax and enjoy a BBQ party. It can even be done on the beach. With those attractions, it is better to come with more people. That means you should not come alone! The beauty of Liwungan Island should be shared with others, especially your families and friends.
Nearby Attractions

How to Get There
Actually, it is easy to reach Liwungan Island. Make sure to ride a good vehicle, though. A rented car is quite recommended. From Jakarta, it takes about 4-5 hours. Your destination is Tanjung Lesung. From there, you need to rent a fisherman's boat. No worries. It takes only a few minutes to reach the island. Along the way, you can witness several seagulls. Not to mention the wind is quite uplifting!
Where to Stay