Cimayang Waterfall in Bojongmanik District, Banten Province
---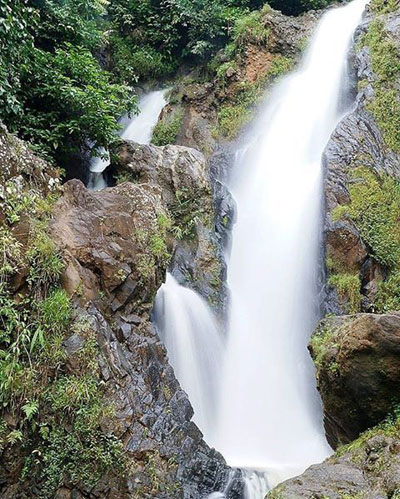 What makes Banten Province interesting? Well, there are many types of tourist attractions. If you are into nature tourism, there is Cimayang Waterfall. The location is in Bojongmanik District. That means you must visit Lebak Regency first. Cimayang is one of the best "curugs" in Banten. Thanks to its beautiful nuance and water. Most of the visitors spend their time in such location for either relaxation or performing an outbound. In some occasions, some researchers come to the waterfall to do some jobs.
The Nuance
The waterfall isn't high. In fact, it is similar to a river. However, the flow of the water is quite strong. Despite this fact, you are able to get in the water. The other features are stones, bushes, and small trees. You can explore them all! One thing, make sure to pay attention to your steps. It is because the stones are wet and slippery. As an alternative, you can simply sit on them and enjoy the nuance of Curug Cimayang. On top of that, the atmosphere is chilling.
Exploring Cimayang Waterfal
It is true Cimayang Waterfall offers a wonderful nuance. What about the facilities? Unfortunately, you can't find many amenities near to the waterfall. If you need some foods, it is better to prepare them beforehand. The thing is you are not allowed to litter. If you carry bottled water and foods, make sure to collect the trash before you go home. Curug Cimayang is a beautiful waterfall and it should remain that way. 
The best thing to do in Cimayang Waterfall is photography. Many beautiful objects are available in such location. It helps you get perfect pictures. In this case, don't forget to carry a camera. Apart from nature photography, you can take selfies in front of the waterfall. As for the tip, you need to use a waterproof camera. Why is that? Accidents do happen. A waterproof camera prevents any unnecessary damages, so you can comfortable taking pictures in Cimayang Falls.
Next thing to do is playing in the water. Cimayang Waterfall features fresh and strong current. Adults are able to play freely in it. For kids, it can be an issue. If you come with your children, you need to take a good care of them. That means you will be their supervisor. Their safety is your priority. With this, the kids can enjoy a fun activity in the water. Thanks to your guidance. Another important thing to know is the clothing. Mostly, you are going to get wet. That means you must have prepared extra clothes prior to visiting the waterfall.
Nearby Attractions
Curug Gendang
Bagedur Beach
How to Get There
The distance is 142 km. It is for those who come from Jakarta. Approximately, the trip may cost 3 hours. It can be faster if you use the right vehicle. Also, the traffic may determine how long the trip is. Once you reach Bojongmanik District, your destination is Cimayang Village. Next, you can walk to the waterfall for about 500 m. Have no worries. Some local kids may help you to reach it.
Where to Stay
Tanjung Lesung Beach
Kharisma Jujuluk Hotel
Ksatria Hotel