A Vacation to Sambolo Anyer Beach in Cinangka District, Banten
---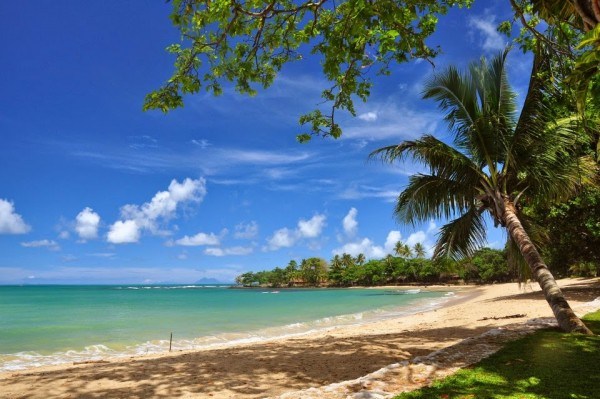 There are tons of beaches in Indonesia. Banten Province also becomes the home of beautiful beaches. One of them is Sambolo Anyer Beach. Due to its strategic location, the beach becomes more popular over time. That means you may expect lots of visitors, especially on the weekends. Many families, teenagers, and local kids are visiting the beach for the holidays. They conduct numerous types of activities such as swimming, playing sand, photography, family outing, and much more. The water is clear and the sand is brownish. They create a unique combination, for sure.
The Nuance
Sambolo Anyer Beach combines both serenity and beauty. There are many features, as well. For instance, the sand is soft and thick. It is a perfect area to make sand castles or similar things. The water is moderate, so it is possible to perform some water sports in it. In the back, you can find several food stands. That means you can get foods and drinks easily. Near to these stands, there are several coconut trees. If you come at the right time, you can drink fresh coconut water. Another feature is the pier. At the tip of this majestic pier, there are gazebos!
Exploring Sambolo Anyer Beach
The best time to visit Sembolo Anyer Beach is in the holidays. The tourists come from different locations, especially those who live in Cinangka District. Most of the times, people from Jakarta also come there to enjoy a family vacation. Even though there is an entry fee, it is quite affordable. The thing is you need to pay the parking fee, as well. In some occasions, the price can be quite high. If you come for the holidays, you need to prepare more money to pay those fees.
What can people enjoy in Sembolo Anyer Beach? First things come first. It is the sloping beach. The water is clear and there is no coral reef at all. That means you can explore and play in the water without any obstacles. Also, it features a strategic location to witness a beautiful sunset. The beach is situated in the west part of Banten, after all. It is even possible to witness the sunrise. However, it doesn't appear perfectly.
Apart from nature, there are several facilities near to the beach. Thus, tourists can really enjoy good times there. For example, there are some accommodations or hotels. Not to mention you can find several gazebos for relaxation. The thing is you need to spend money to rent such gazebo. The price depends on the size and the duration, actually. For those who love water sports, there are several fun activities such as snorkeling, banana boat riding, jet skiing, and much more.
Nearby Attractions
Curug Betung
Curug Cigumawang
Batu Kuwung
How to Get There
From Jakarta, you can directly head to Cinangka District. The distance is about 140 km and it takes approximately 3 hours. When it comes to the best route, you need to use Pantura Street. Later, you need to use Tangerang-Merak Freeway. The last route is Nasional III Street.
Where to Stay
Casa Krakatoa
Aston Anyer Hotel
Hawaii Resort

Latest News
Sawarna Beach Sawarna beach, that located in Lebak, Banten province is now becomes more popular to be visited. In a decade, this beach that located along the forest beach in line with Pelabuhan Ratu, raise as one of most-visited beach and entitled as a new pearl in Southern Banten. To reach Sawarna, the travelers from Jakarta can be start the journey from Tangerang, Tigaraksa and Malimping, Bayah. While, from Bandung, we can start from Pelabuhan Ratu, then down the coast to the west. Unfortunately, we have to ask to the…
---
Serang Serang is the capital of Banten Province and the administrative center of Serang Regency. The administrative center of the regency and the capital of the province is the independent municipality of Serang (Kota Serang). Serang is about 10 km from Old Banten, the province's former capital. Merak, a major port and ferry terminal, is located just west of the regency. Serang is bounded by Java Sea to the north, Tangerang Regency to the east, Lebak Regency and Pandeglang Regency to the south, and Cilegon to the west. Old Banten…
---
Pandeglang Pandeglang is a regency in Banten province with the capital of the same city. This rgency is bordered to the north of Serang, Lebak District in the East, and the Indonesian Ocean in the west and south. Its area also includes the island of Panaitan to the west, separated by the Strait of Panaitan, and number of small islands in the Indian Ocean, including the Deli Island and Tinjil Island. Ujung Kulon Peninsula is the most western tip in Java island, where there are wildlife reserves and there is…
---
Banten Banten is one of Indonesia Provinces that stand on the tip of Java Island. Formerly was a part of West Java Province, but on 2000 was separated and become a single province. The administrative city is located on Serang city. Banten at early begin was a port city with the busiest activity and prosperous people. Also, Banten was the most important port from Sunda Kingdom. When it was become a part of Sultanate of Banten, Banten became the biggest port city on South East Asia as big as Malaka…
---