Visiting Bodur Beach in Panimbang District, Banten
---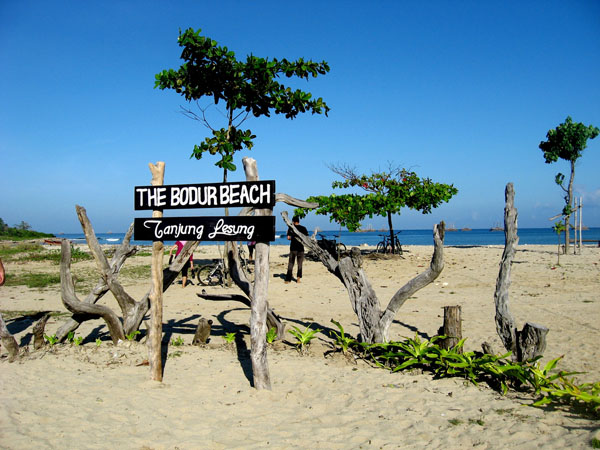 Nature Tourism always becomes the best attraction for tourists. If you are visiting Banten Province, you must consider Bodur Beach. The location is in Panimbang District. It belongs to Pandeglang Regency, actually. Bodur becomes a favorite place for relaxation among locals. However, some foreigners are often seen there. Today, it becomes one of the best beaches in Banten. No one gets bored in visiting that coast. Most of the visitors come from Jakarta. They want to eradicate stresses in such solemn beach.
The Nuance
The first impression in Bodur Beach is its sand. The color is similar to that of the desert. There is a traditional nameplate located there. This sign is noticeable, so tourists can find the location easily. There are several trees but they don't feature shady leaves. Thus, Bodur emits a vast and sunny atmosphere. In the sea, you may encounter moderate waves. Swimming isn't recommended there. With these features, Bodur is considered a good place for beach walking and photography. Somehow, people visit it for relaxation as well.
Exploring Bodur Beach
Once you have arrived at the gate of Bodur Beach, it is time to pay the ticket. For many, it is a little bit expensive. No worries. It is a worthy expense. Not to mention it is more affordable than other beaches in Tanjung Lesung. For a cheaper ticket, you should come anytime except holidays and weekends. This way, you can get a less crowded atmosphere and economical entry fee. The beach gives you privacy. It seems like you are spending good times on a private beach.
Beach walking is a common thing to do in Bodur Beach. Tourists can enjoy the breezy wind and soothing sea scenery. If you carry a camera, you can take some good pictures as well. Scattered branches become a common sight in the shorelines. Instead of becoming an obstacle, they create a unique nuance. Do you get hungry while beach walking? In some parts of the parking area, you can find several food stands and souvenir sellers. Make sure to fill your belly there.
In the afternoon, some kids come to Bodur Beach. They are looking for clams and other attractive creatures in the seashore. This is quite a sight. For photographers, these kids can be a distinct object to capture. What's next? For foreigners, the beach is considered a good place for sunbathing. What about you? It seems such activity doesn't suit local's customs. Thus, local tourists aren't likely to sunbathe in Bodur. Once you enjoy those activities, you can continue your adventure to nearby locations in Tanjung Lesung. Have a nice trip!
Nearby Attractions

Tanjung Lesung Beach
Tanjung Lesung Marine Park
Kampung Sawah
How to Get There
Bodur Beach is easy to reach. If you come from Jakarta, you can take different routes to Panimbang District. The fastest route is Pantura Street. It is considered a long trip as you need spend about 5 hours. The distance is 179 km, after all. The beach is situated in Tanjung Jaya Village. Thus, you should head to that location right away.
Where to Stay

Tanjung Lesung Resort
Blue Fish Hotel
Kalicaa Villa

Latest News
Sawarna Beach Sawarna beach, that located in Lebak, Banten province is now becomes more popular to be visited. In a decade, this beach that located along the forest beach in line with Pelabuhan Ratu, raise as one of most-visited beach and entitled as a new pearl in Southern Banten. To reach Sawarna, the travelers from Jakarta can be start the journey from Tangerang, Tigaraksa and Malimping, Bayah. While, from Bandung, we can start from Pelabuhan Ratu, then down the coast to the west. Unfortunately, we have to ask to the…
---
Serang Serang is the capital of Banten Province and the administrative center of Serang Regency. The administrative center of the regency and the capital of the province is the independent municipality of Serang (Kota Serang). Serang is about 10 km from Old Banten, the province's former capital. Merak, a major port and ferry terminal, is located just west of the regency. Serang is bounded by Java Sea to the north, Tangerang Regency to the east, Lebak Regency and Pandeglang Regency to the south, and Cilegon to the west. Old Banten…
---
Pandeglang Pandeglang is a regency in Banten province with the capital of the same city. This rgency is bordered to the north of Serang, Lebak District in the East, and the Indonesian Ocean in the west and south. Its area also includes the island of Panaitan to the west, separated by the Strait of Panaitan, and number of small islands in the Indian Ocean, including the Deli Island and Tinjil Island. Ujung Kulon Peninsula is the most western tip in Java island, where there are wildlife reserves and there is…
---
Banten Banten is one of Indonesia Provinces that stand on the tip of Java Island. Formerly was a part of West Java Province, but on 2000 was separated and become a single province. The administrative city is located on Serang city. Banten at early begin was a port city with the busiest activity and prosperous people. Also, Banten was the most important port from Sunda Kingdom. When it was become a part of Sultanate of Banten, Banten became the biggest port city on South East Asia as big as Malaka…
---