Visiting Curug Cianjeng Kembar in Cinoyong Village, Banten
---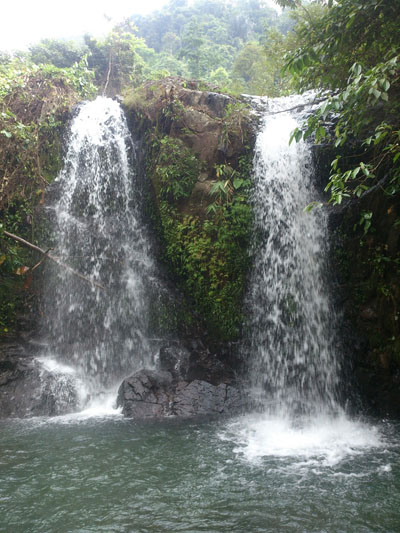 Nature tourism can replenish your spirit. It is common sense. The problem is the destination. In Banten Province, you can go to Carita District. It is the home of an interesting nature tourism called Curug Cianjeng Kembar. Actually, it is a waterfall. The location is in Cinoyong Village. Curug derives from the local language. In English, it means a fall. What about Kembar? It means "twin". As the name suggests, it is a twin waterfall. Due to such uniqueness, it becomes an interesting vacation spot both for locals and foreigners.
The Nuance
In terms of appearance, it is similar to Curug Pengantin. The first impression in Curug Kembar is its serenity. The falls are located in the midst of a forest. That means you may expect lots of plants there. The height is moderate. Still, you aren't able to climb them. The flow of the river is separated by a big stone. Thus, it creates two different waterfalls. When it comes to the nuance, it is quite refreshing. No wonder, people often come to this location for playing water and relaxing.
Exploring Curug Cianjeng Kembar
As mentioned earlier, the waterfall becomes a wonderful location for relaxing. Thanks to a solemn atmosphere and refreshing water. The sound of water gives you peace. Actually, you don't have to play in the water. It can be as simple as sitting nearby. This way, you can witness how nature works. It gives you an inspiration as well. Before visiting the waterfall, it is better to carry extra clothes. It is likely you are getting wet later. Not to mention it is hard to refuse the urge in playing water.
The best time to visit Curug Cianjeng Kembar is during holidays. There are more people coming to that location. Thus, you can feel a merrier nuance. The fall is also popular among teenagers. They use such opportunity to grill fishes and talk to each other. It is no doubt. The waterfall becomes a good place for bonding. It can be either with families or friends. If necessary, you should carry some snacks or foods. It is because you may need them later.
Another fun activity is trekking. The fall is located in a challenging landscape. Thus, it is suitable for an exploration. Make sure to wear proper footwear and equipment, though. Some parts of the landscape are slippery. Those can be dangerous for beginners. Next, don't forget to carry a camera as it helps you get some beautiful pictures there. If you come with kids, make sure to watch them carefully. Don't let them get hurt due to carelessness!
Nearby Attractions

Matahari Beach
Curug Putri
Curug Cigumawang
Batu Kuwung
How to Get There
In order to reach Curug Cianjeng Kembar, you must pass through a difficult route. In fact, it is considered extreme. Once you reach Carita District, you must spend about 2 hours of trekking. It is both tiring and challenging. Still, it gives you a trekking opportunity. If you want a simpler and faster trip, you should hire a local guide. He helps you reach the waterfall efficiently.
Where to Stay

Prima Anyer Resort
Sunset View Hotel
Hawaii Resort