Reaching Fishermen Village in Citeurup, Banten Province
---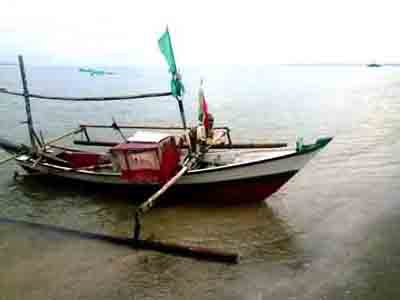 When it is about Banten, what comes in your mind? Mostly, it is about beaches and nature tourism. However, you can find a serene village in Panimbang District. The name is Citeurup Village. It belongs to Pandeglang Regency. It is famous for its fishermen's activity. No wonder, most of the villagers are fishermen. They live near to the coast, as well. That means you can expect some boats nearby. Actually, it is not a popular spot for a vacation. It gives you a different experience, though. Make sure to drop by in Citeurup!
The Nuance
As mentioned earlier, the village features a coastal area and some boats. In the shorelines, you can see several fishermen preparing their equipment and boat for fishing. This becomes a unique sight. If you are lucky, you can ride their boat and go to the sea together. Sometimes, you may see several kids playing around. They are cheerful and friendly. They even approach you innocently. Due to this reason, it is better to prepare some candies or snacks beforehand. Thus, you can share these with them.
Exploring Citeurup Fishermen Village
The best attraction in the village is the nature. Citeurup is surrounded by natural beauties. The houses of villagers are situated near to the coast. That means you can easily enjoy sea scenery from the location. The sound of the waves and the gusty wind become primary features there. The village is also near to a main road to Tanjung Lesung. No wonder, several tourists often drop by in this settlement. Even though most of the villagers are fishermen, some of them are also farmers. There are several farms nearby.
Some locals open a traditional eatery in Citeurup. They sell snacks and coffee. Thus, you can get along with villagers and enjoy good times in such "warungs". The structure of the houses is quite traditional. In the back, there is no door. The owner makes it that way, so they can witness the sea wholeheartedly. In the morning, the locals start reaching the coast. They are preparing the boat and equipment for fishing. This activity becomes an attraction for tourists. You can even take some pictures of them.
In the evening, it is time to enjoy beautiful scenery, which is sunset. This can be done while drinking a cup of coffee. Somehow, it is quite peaceful. You can eradicate all your burdens in an instant. It can be a romantic nuance for couples, as well. Due to this reason, coming with spouse or lover is also recommended. At night, you can eat in local eateries. The prime menu is definitely seafood. If you are lucky, you will be invited to a villager's house and enjoy dinner together!
Nearby Attractions
How to Get There
From Jakarta, you should use Pantura Street. This brings you to Panimbang District. From there, you can directly head to Citeurup Village. The whole trip takes roughly 3 ½ hours and the distance is 174 km. Here is the thing. You must use a comfortable vehicle.
Where to Stay
Adam Homestay
Tanjung Lesung Resort
Kampung Sawah Cottage